Web design is definitely an art. You want an attractive address on the web. And, if you plan to offer your services to others, you want to be up to date on best practices and you want to be able to provide solid design principles to any project that you participate in. If you are interested in web design, there are some blogs that can help educate you about what is going on now. Here are 50 web design education blogs that can help you improve your skills:
Best Practices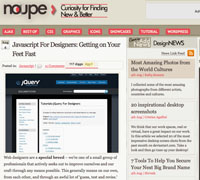 These are web design blogs dedicated to best practices and helping you figure out what you can accomplish. Many of these blogs are also more general in terms of web design topics.
Tips and Tricks
While these blogs do concentrate on design aspects, they also focus heavily on providing helpful tricks and tips to improve your web design ability and use various tools.
Guides and Tutorials
These blogs go beyond offering tips and tricks to providing in-depth how-to and tutorials. Many of these blogs offer handy guides to web design elements and can help you seriously enhance your skills.
Development
These are blogs that focus on development. You want help developing web sites for yourself and for clients in ways that are user friendly and that provide a pleasing look.